CHS Athletic Boosters
**New -
Cal Wear sponsored by The Athletic Boosters
100% of the proceeds goes toward chs atheltic programs!
---
Mission Statement
Enhancing the athletic experience for students, coaches, and community.
---
Our goals are achieved only through the volunteer support of community members and the generous financial support we gain through your donations, raffle ticket purchases, concessions, and advertising in our programs. Your attendance at athletic events is confirmation that you care about the young men and women in our community.
Go Scots!
---
Everyone is welcome!
---
Athletes of the Month
August, 2017
Gaby Harper


Gaby isa fantastic volleyball player who has verbally comitted to​ play at Miami of Ohio. She currently leads our team in kills with 171 and is hitting .324. She is second on our team with 95 digs. Gaby is a very hard worker who shows up everyday with a great attitude and is ready to work. Gabyis a 4 year varsity player. Gaby is a joy to coach and a great role model to the younger players on and off the field.
Caden Jackman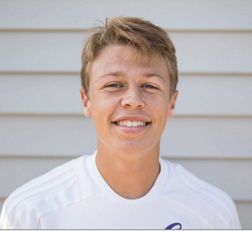 Caden has started the season off great, he has 5 goals and 3 assist. Four of those goals have come off of set plays and PK's. Caden is a great captain for us, he leads off and on the field. He may not be that loud-voiced leaders that you always see in the movies. Caden is a quiet person. He speaks when has to. When he does its quiet, relevant and to the point. He absorbs the training, the lectures, the weights, the adversity, the atmosphere, and his opponents. He is a steady rock in the storm.
The raging atmosphere, unjust regulation, and relentless punishment isn't enough to shake Caden. The team holds on to him and he pulls us through.... Unplayable.... It's a word often used by coaches to describe a player who cannot be contained. You cannot deny a player of his ability. He is a warrior that will give every piece of his heart in every situation till the game is done. Soccer is an ever evolving game that asks questions that demand answers every half of a second without hesitation. And Caden is there. Always there, in the front row of the game, confidently answering those questions with quick, confident and creative solutions.
Caden holds an impressive GPA of 3.9 and takes AP Gov and AP Stats. He is also a NHS member, church youth group leader, tutor for 4 years soon to be 5, LEGION member and his PSAT score is an impressive 1200. Caden has also committed to Division 1 WMU to play soccer. By far, Caden Jackmen is the perfect example for this award of Boosters Athlete of the Month and represents everything of what this award is about.