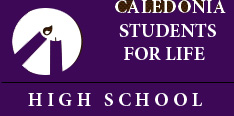 "Preparing Students for the Culture of Life"
Caledonia High School students established a Caledonia Students For Life group in the winter of 2014-15.
---
Welcome to Caledonia Student for Life (CSFL)

We are a prolife organization. If you don't already know, prolife is a support of everyone's right to live. We believe that no child should lose their life. We are against abortion, the intentional killling of babies before they are born. We know that every person has the right to be alive and we will work to support that right.
Our mission is to raise awareness for, educate about, and take action for the pro-life movement. Our goals are to lead pro-life initiatives, provide resources to pregnant women and their children, born and unborn, and to save lives.
We meet as a group the first and third Wednesday every month. We meet to educate why abortion is wrong, morally and scientifically. We are here to help students learn how to articulate their beliefs and why. We bring in speakers and have presentations. We hold a drive for needed baby items, and volunteer at places like the "Pregnancy Resource Center to help support our cause.
Why do we do this? Every year 1.1 million babies are killed by abortion. Over 50 million have died since the case that leagalized abortion, Roe vs. Wade, was decided. As high schoolers, we are important to the cause, as 18% of abortions are obtained by teenagers. That is198,000 teenage abortions per year. We need to be the voice for the voiceless. We need to stand up for what is right. We are the prolife generation!
Officers 2016-17

Michael Bursch, President
Gracie Aguillon, Vice President
Pedro Aguillon, Secretary
Carter Yon, Treasurer.
Amanda Bursch, Communications coordinator

Ms. Durkee, Staff Advisor
---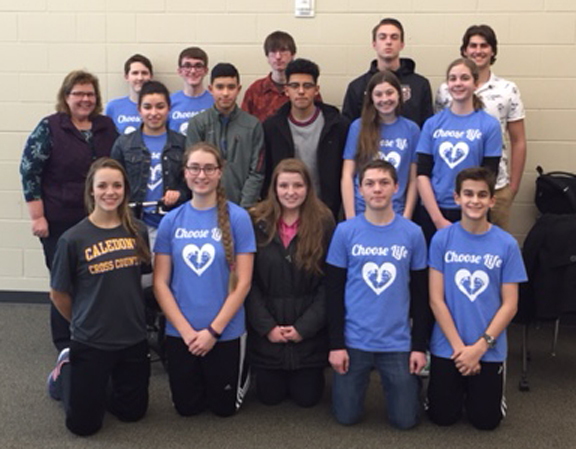 ---

#CHS_S4L

Group - CHS Students for Life
---
February, 2017 - Baby Drive
Caledonia Students for Life - Baby Drive
January -
Participate and in Caledonia non denominational prayer service for life.
Make poster and get ready for baby drive.
**Many of our members went to the "March for Life" in Washingon D.C.
December -
Plan for baby drive.

November -
Awareness meeting with speaker from National Students for Life Rep

October -
Volunteered at local Right to Life Dinner at Holy Family
Get to know each other, Michael talked about purpose of our group and what it means to be a Students for Life group.
---
Past Meetings
November 2015 Meeting -
Get reaquainted and introduce new members.
*Nov. 4th - Michael gave a short talk about abortion statistics and what our goal is as

CSFL.
*Nov. 18th - Speaker Erin Karlovich came from GR Right to Life. She gave a presentation on Adoption as an option for mothers and babies. She explained the "Myths" about adoption and shared several videos showing the benefits for the "Birth Moms" and "Adopting Families".

The result is REAL Healing and Peace for all involved.
Adoption is a great option and gift to others.
Erin offered an essay opportunity for anyone interested.
Essay - typed in 12 pt font, double spaced, page-numbered, 300-500 words, properly cited.
(include a work cited page)
Cover sheet - Full name, mailing address, phone number, grade level, date of birth, parent or guardians name, word count.
Esay mailed to Erin Karlovich, P.O. Box 901, Grand Rapids, MI 49509-0901 or emailed to ekarlovich@grrtl.org (Essay Submission in the subject line.)

Topic - What can I do to build a pro-life generation?
Senior Contest: grades 10-12
Junior Contest: grades 7-9
1st Place $50
2nd Place $25
(for each grade level contest)
Deadline December 11th
By submitting an entry, the contestant and parent/guardian agree to the following:
Essay is original but not copyrighted
Allow GRRTL to reprint the winning essay
Allow GRRTL to submit the winning essay to National Right to Life
---
Successfull ran 2 Diapers and baby clothing drives. One in 2014 and one in 2015 to help Pregnancy Resource Center.
Also our group volunteered at the Pregnancy Resource Center.
Participated and in a local "All Faiths" Pro- life prayer night.