Welcome to Caledonia's Early Intervention Program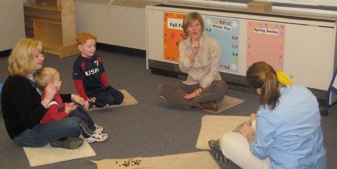 Caledonia Community School's Early Intervention Program is dedicated to providing special education services to children from the ages of birth to three years. The Early Intervention Program provides special education evaluations and intervention services to children who live in the Caledonia Community School district and qualify under State and Federal guidelines.
What the Early Intervention Program Provides...

Information to community members regarding typical development of young children and resources available to them in our community.
Multi-disciplinary developmental evaluations for children under the age of three years.
Service delivery in natural environments for those who qualify.
Parent education groups.
Developmentally appropriate play activities within the group setting.
A team of specialists supporting the development of every child in the program.
Group Information
Please call 616-891-6220 for the 2019-202 Group Schedule.
0-3 Year Old Resources

Early On


Bright Beginnings


Connections - click on Programs, then Connections


Kent District Library - Caledonia Township Branch


Down Syndrome Association of West Michigan


Autism Support of Kent County


Mothers of Preschoolers


Grand Rapids Kids


Zero to Three