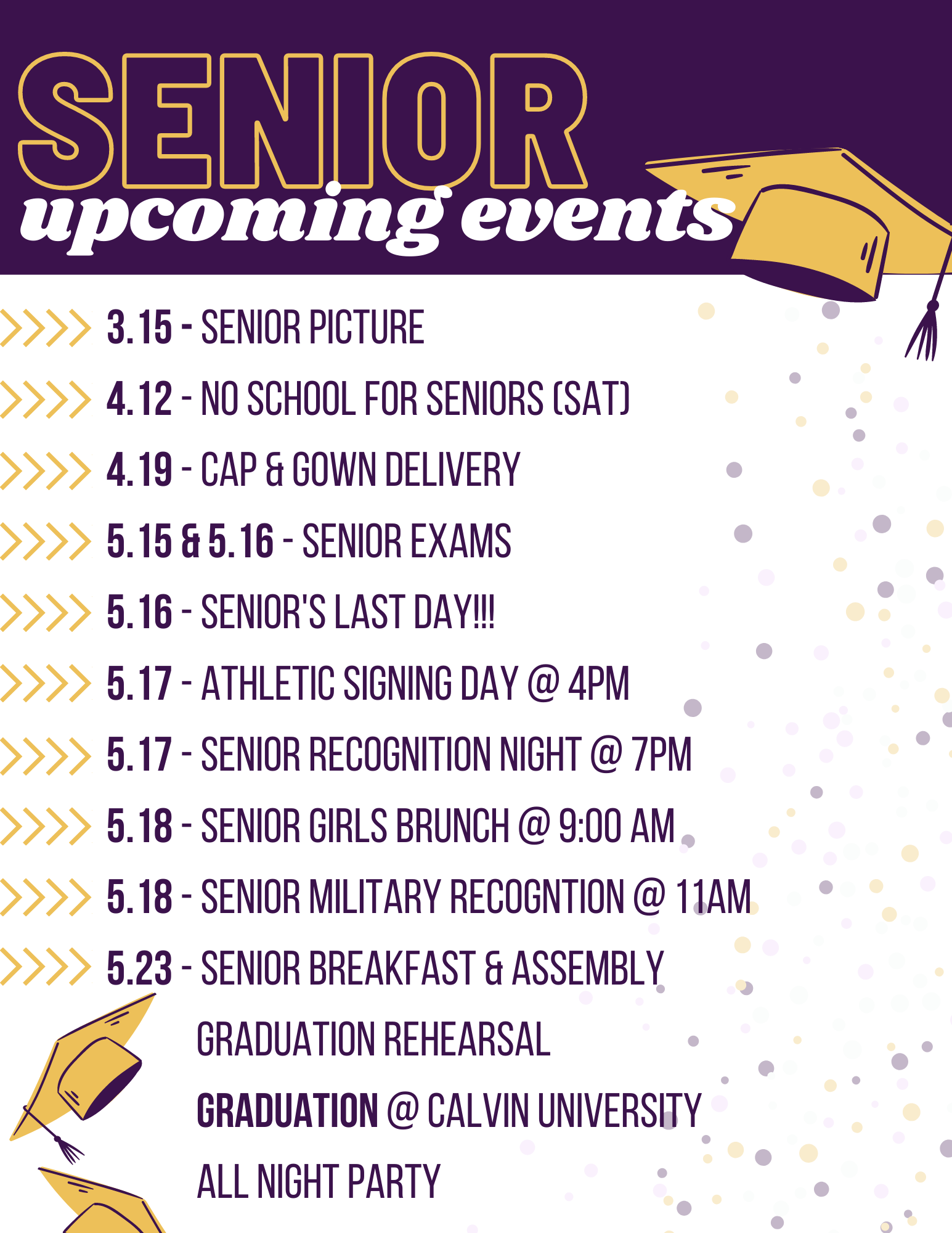 Senior Walk (various dates)
The Senior Walk is an invitation to take one last walk with other seniors through the hallways of the CCS elementary school where you began your education. Please wear your cap and gown and report to your elementary school at it's assigned date and time.
Schedule
Cal El | Friday, May 19 @ 11:00 AM

Dutton |

Friday, May 19 @ 9:30 AM

Emmons Lake | Tuesday, May 16 @ 1:30 PM

Kettle Lake |

Friday, May 19 @ 10:00 AM

Paris Ridge |

Tuesday, May 16 @ 2:00 PM
Register: You will have the opportunity to register for the Senior Walk when you complete your Senior Survey.
Monday, May 15 - Full Day
Student will attend ALL classes as normally scheduled. 4th-6th period exams will be administered during class.
1st period (regular class)
2nd period (regular class)
3rd period (regular class)
4th period exam (10:57-12:26)
5th period exam (12:32-1:31)
6th period exam (1:37-2:36)
---
Tuesday, May 16 - 1/2 Day
Students will attend 1st-3rd period classes, as normally scheduled, where exams will be administered. Students will be dismissed after their exams are complete. At that time, they will check-out and/or report to their Senior Walk.
1st period exam (7:40-8:39)
2nd period exam (8:45-9:44)
3rd period exam (9:50-10:51)
5/17 Athletic Signing Day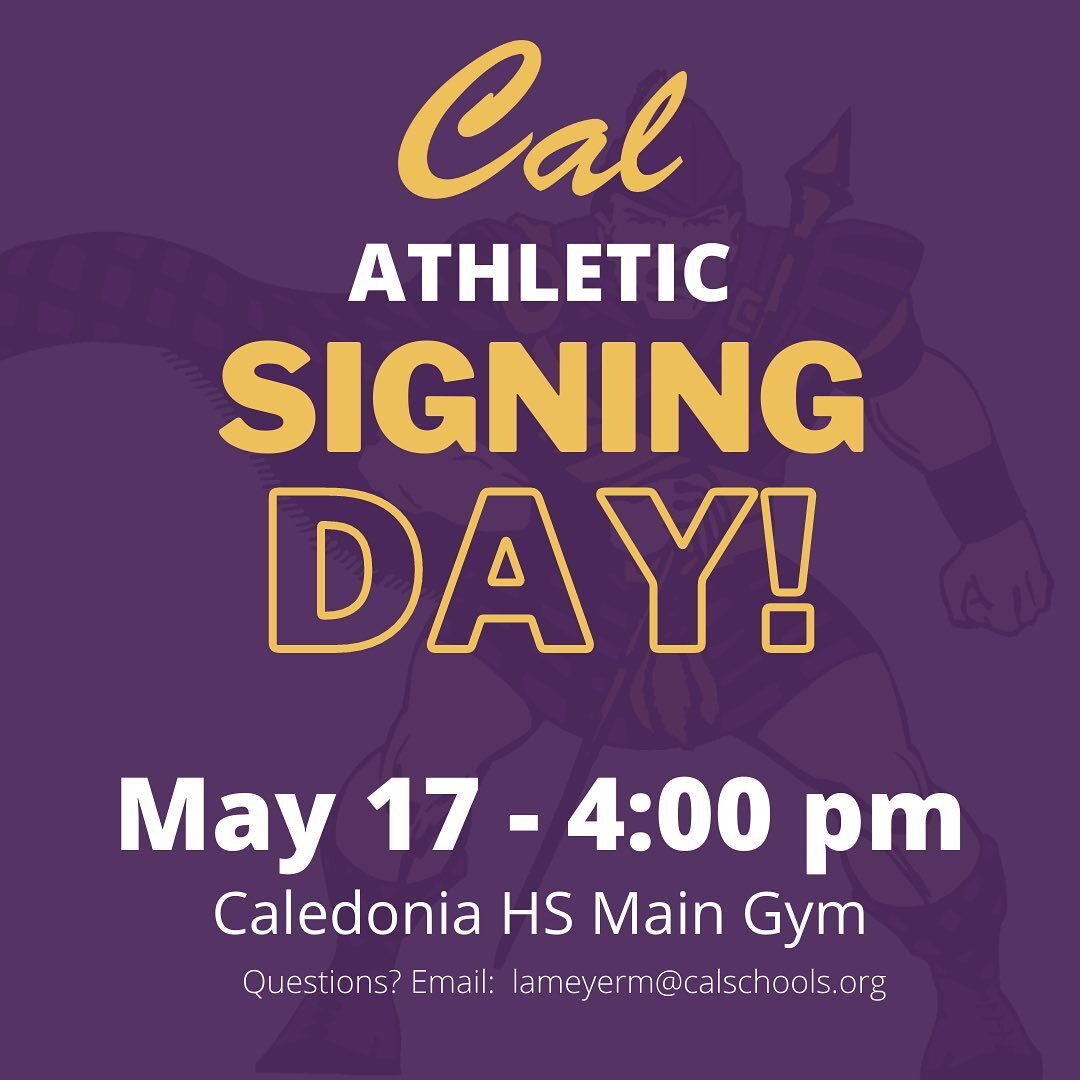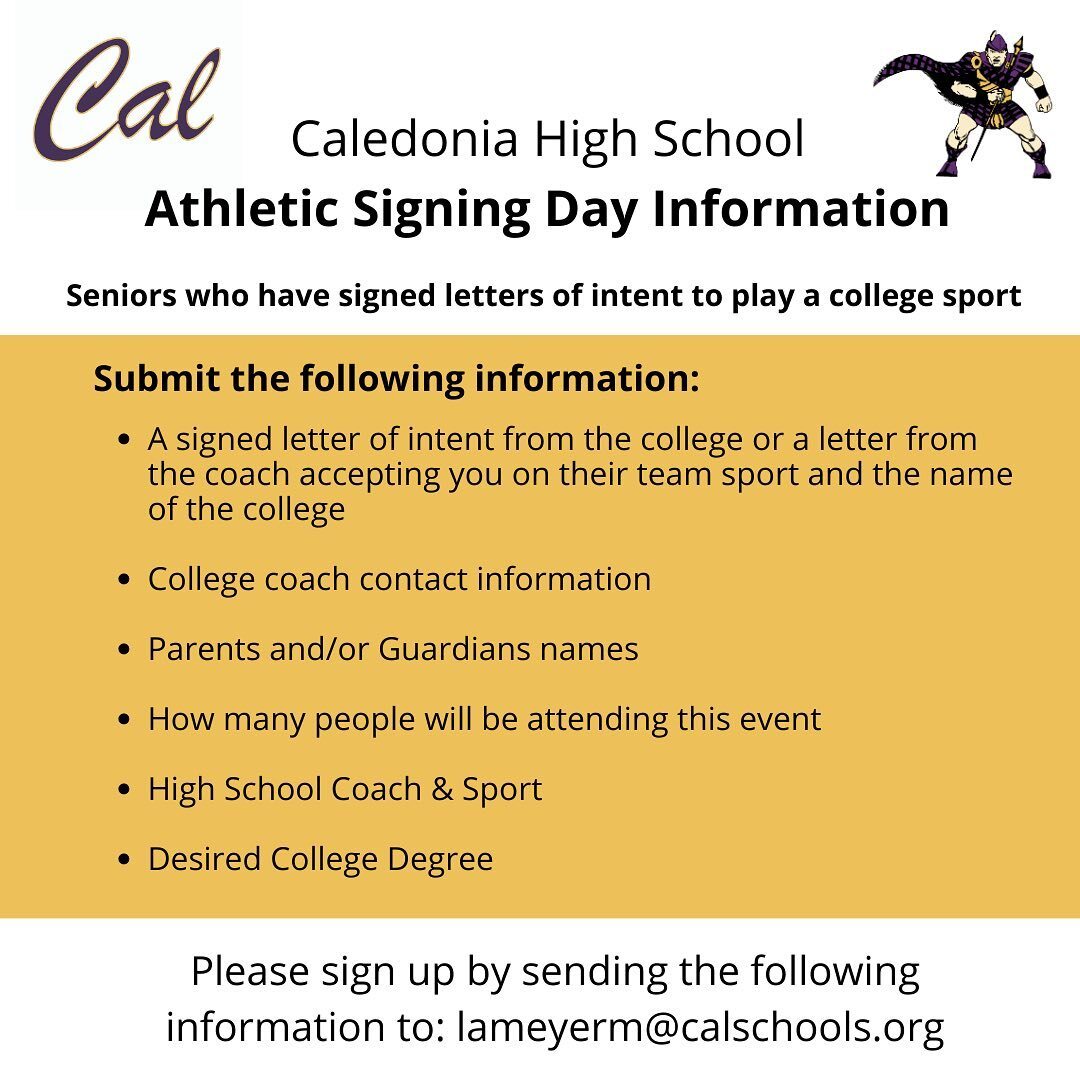 Location: The event will take place in the Caledonia HS Main Gym.
Deadline: All signing day information should be submitted to Mrs. Lameyer by Friday, May 12.
Time: Students, parents and coaches should arrive no later than 3:45 PM to get lined up.
5/17 Senior Recognition Night
*ALL DATES AND TIMES ARE TENTATIVE*
The 2023 Senior Recognition Night will take place on Wednesday, May 17 @ 7:00 PM in CHS's Fine Arts Center.
Invitations: Seniors with a cumulative GPA of 3.5 or above at the end of the 1st semester will be invited to attend, along with those receiving special awards and scholarships. Official invitations will be emailed the week of May 1.

Link to Department Award Criteria
The Caledonia Women's Club cordially invites Senior Girls and their mother(s), to attend their Senior Girls Brunch on Thursday, May 18 @ 9:00 AM.
CWC Scholarships will be presented at the event (if you applied, you should plan on attending). Business attire is recommended. No RSVP required.
Look for invitations to be distributed with cap & gowns.
5/18 Military Recognition Ceremony
*ALL DATES AND TIMES ARE TENTATIVE*
We invite you to join us as we recognize our Seniors who have committed to joining the United States Military.
5/21 Cal Cruise & Senior Sunset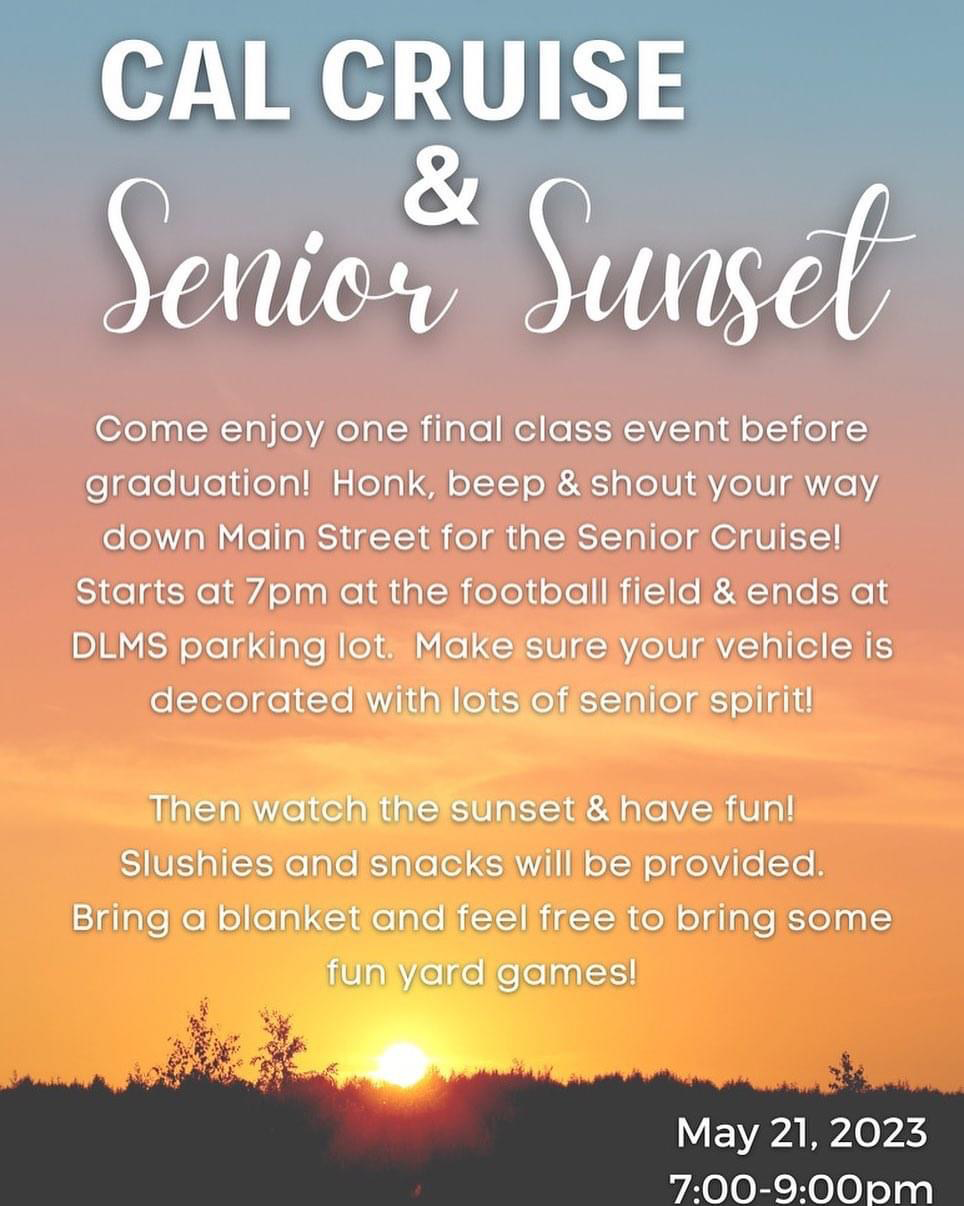 *ALL TIMES ARE TENTATIVE*
Students are invited to celebrate with their peers at the first annual Senior Breakfast, to be held at 8:00 AM on May 23 in the North Cafeteria. Details to come, but know it will include a student-chosen menu, great giveaways and a few surprises too!
Students will go directly to the Senior Assembly following the event.
*ALL TIMES ARE TENTATIVE*
The Senior Assembly will take place in Caledonia High School's North Gym at 9:00 AM. Students should wear gowns (no caps).
Parents are invited to attend this event. Parking will be available in the Bus Lot and Fine Arts Lot.
The event normally includes:
Welcome
Class Officers Recognition
Class Address
Launch U Recognition
Military Service Recognition
Perfect Attendance Award
Principal's Leadership Award
Athletes of the Year
Faculty Address
Class Video
5/23 Graduation Rehearsal
*ALL TIMES ARE TENTATIVE*
Students will depart for Graduation Rehearsal following the Senior Assembly, at 10:15 AM.
All students are required to take the bus to and from Calvin University.
Students should return to CHS via bus by 2:00 PM
Attendance is mandatory!
5/23 Graduation Ceremony!
*ALL TIMES ARE TENTATIVE*
Location: Calvin University's Van Noord Arena
Parking: Lots 1-5, 7 and 8 are available for general parking (see map here). Note, Lot 6 is reserved for Handicap Parking, Staff and Board Members.
Timeline:
6:00 PM - Graduates arrive @ Calvin and doors open
6:50 PM - Bag Pipers Lead Graduate Processional
7:00 PM - Ceremony begins!
Entry: Tickets are required for entry. Each family will receive 8 General Admission tickets. The opportunity to request additional tickets will be available (more information to come).
Enter through the Spoelhof Fieldhouse Complex main entrance, located at the southeast corner of the complex nearest the circle drive.
Sections 114-115 on the floor level have been reserved for staff and the choir. Please do not sit in those sections.
Handicap Seating: Located on the main level; designated as section AA all the way around the first row. There will be ushers available to assist as needed.
Additional Details:
Graduate processional lines and seating will be in alphabetical order, with the exception of students receiving a Certificate of Attendance, and our exchange students, who will be honored at the end (there will be no walking partners).
A link to a Digital Program will be provided, highlighting each Senior's time at CCS.
Students will remain in line to pick up their Graduation Packet following the event. This packet will include:

Diploma
Class of 2023 Composite Picture
Student awards and/or other 'extras'

All Night Party Information
Academic honors cords are distributed at graduation practice. All other cords are presented to qualifying students by the club or course coordinator.
Academic Cords
Summa Cum Laude "With Highest Honor" (Gold) - Cumulative GPA 4.0+
Magna Cum Laude "With Great Honor" (Silver) - Cumulative GPA 3.5-3.99
Cum Laude (Bronze) "With Praise" - Cumulative GPA 3.33-3.5
Club, Course and Service Cords
AMBY

(Pink)
be.nice (Lime Green)

DECA

(Blue Stole)

FFA

(Blue & Gold)
Journalism (Green & Yellow & White)
Launch U (Blue, Gold & White)
Legion (Blue)
LINKS (Teal & White)
NHS (Purple & Gold)
RAD Drone (Navy Blue)
Robotics (Red)
Student Council (Purple & White)

Versiti

Blood Leader for Life (Pink & Gray)
Links
Order/Submission
Other