---
Caledonia High School . . . Preparing Students for Life!
---

---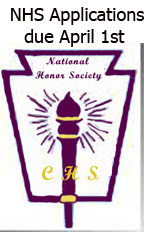 ---
National Honor Society applications are now being accepted. Next year's juniors and seniors with 3.5 or above may apply to National Honor Society. Applications can be found at the following link: NHS App
---
CHS Signing Date Has Been Set - April 15th
Graduating this year, and are signing to play sports in college? Contact the Athletic dept. asap. This is a special day to celebrate and recognize your achievements.
Spring Sports
Spring Athletes - Spring Seasons start March 9th Please be sure to turn in your athletic/concussion code, phyiscal, and participation fee before March 9th to get your pink card. If you're not sure you have all the information in, please stop in the Athletic Office to check. :-)
News Posted on March 19, 2015 11:56am FFA middle school and high school students interested in FFA - Ag degrees from MSU may now be able to earch MSU credit for high school courses. See the link for more information.
Welcome to Michigan's new Assessment System, the Michigan Student Test of Educational Progress (M-STEP). This new system was developed by the Michigan Department of Education's Office of Standards and Assessment and builds upon Michigan's historically strong student assessment program.
Mandatory state test coming up right after break. Follow the link, for more information.
Need Help Paying for College?
The State of Michigan-Student Financial Services Bureau is available to assist! www.michigan.gov/mistudentaid www.facebook.com/mistudentaid www.twitter.com/mistudentaid 1-888-4-GRANTS (888-447-2687) Also, as a reminder, we have free publications available for you to order! If you are interested please visit our website (www.michigan.gov/mistudentaid) and click Outreach Services.
---
Main Office: 616-891-8129
Main Fax #: 616-891-7038
Attendance: 616-891-0741
Athletics: 616-891-0211
Student Svs.: 616-891-0214
Infinite Campus Help: 616 891-7011
C.H.School Hours 7:45 a.m. - 2:37 p.m.