April 23, 2017

---
Everyone is Invited - Theater Art Class is hosting an entertaining night that will consist of short one act performances and musical songs. Everything has been put on by our dedicated seniors in theater! This event will be Thursday, April 27th in the FAC at 7pm. We would love for everyone to come and join us for a great night, and it's free to get in!
If you are interested in being a class officer, pick up a packet in the main office. Paperwork is due no later than Friday, May 12 to Mrs. Reigler and the first meeting is Wednesday, May 24.
---
Dance Team auditions will be held May 5 in the Main Gym. If you plan to try out, please attend the informational meeting next Monday after school in room 2265.

Students that owe a balance on their AP exam accounts need to pay them in full byFriday, April 21. Please see Mrs. Scott in Student Services or Mrs. Durkee in the tech office with questions about how much you owe and to pay the balance in full.

ATTENTION SENIORS:
New Scholarship: Caledonia Community Players announces a $500 scholarship for this years senior actors, musicians, and technicians who have participated in either high school drama or Community Players productions during their four years of high school.
DEADLINE: 4/21/17
See Mrs. Trutsch or Naviance for an application.
New scholarship in for seniors!
The Caledonia Blood Scholarship is now available: You must write an essay and the application is due April 30.
See Mrs. Trutsch for a copy of the application.
Seniors: New Scholarship!
United Bank Student Citizen Scholarship: You do not need to be a member of United Bank. Looking for seniors who will attend college and have financial need and/or special needs!

If you haven't applied for any yet, you should check out these great opportunities for college help. If only a few apply, then only those few will win!
See the bulletin board or Mrs. Trutsch ASAP!
---
Juniors and Seniors: There are a few upcoming college rep visits in Student Services.

Michigan Tech April 25 @ 10:30 a.m.
Sign up in Student Services.
Seniors:
If you are interested in a career after graduation, please see Mrs. Trutsch in Student Services.

Athletics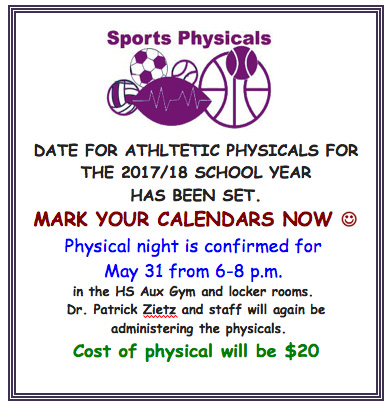 Job Board
New Job Posting: Apprentice Program for Equity Transportation for high school graduates. Visit website and apply online at www.driveforequity.com​

PLM Lake & Land Management! Part time now/full time in the summer. Working outside, posting signs and assisting applicators. Pay starts at $9/hour
See Mrs. Trutsch for address.

Petes Tavern
Located on 84th Street in Byron Center (right near Tanger Outlets). A very busy family sports tavern. Not open on Sundays. Hiring for bussers and expediters. Fun place to work!!! See Mrs. Trutsch.

Commercial Concrete Construction
There is a high demand for skilled employees in the concrete construction business. If you are 18 years of age and would like full time work for $13-$17 per hour plus overtime, see Mrs. Trutsch.

Blue Lake Fine Arts Camp
Currently seeking candidates for 100 positions in Food Service, Camp Store, and Snack Bar for this summer. These are seasonal positions from entry level to leadership up to 40 hours per week. Candidates must be 18 by June 1. See Mrs. Trutsch for more information.

Sikkema Equipment in Byron Center is hiring part-time with flexible days. Looking for students who are hardworking, team players with a positive attitude. Any warehouse and/or agricultural/farm experience is a plus!
See Mrs. Trutsch.

Advantage Research Services is a market research company in Cascade. They are hiring people to conduct surveys and opinion polls over the phone. See their website atwww.advantageresearch.net.
Do you love fashion? Can you strike up a conversation with anyone? Do you flourish in a fast-paced, high volume, fun environment? If your answer is Yes! then you should be working at Gap! We offer competitive pay and flexible schedules.
Apply today at www.gapinc.com/careers Job code # 191565
(We are located at the Tanger Outlets at 350 84th St SW Byron Center, MI)

Byron - Gaines Utility Authority hiring for part time Utility System Maintenance Worker. Seasonal, from April to mid-October. Must be at least 18 years of age, have a high school diploma, and have a valid Michigan driver's license. Duties include building and grounds maintenance, limited water and sewer utility maintenance and special projects.
Midwest Sign Company in Byron Center is looking to train an apprentice. This will be part time after school now and full time after graduation. Pay is based on how much responsibility you can handle. Full benefits. See Mrs. Trutsch in Student Services for more information.

Progressive Surface - after graduation full time, benefits & training-see Mrs. Trutsch now to set up a meeting.
Seniors: If you are interested in working in construction after high school instead of college, a local company is interested in hiring. Full benefits are offered and there is room for advancement. You must be 18 to apply.
See Mrs. Trutsch in Student Services.

Pete's Grill in Byron Center is badly in need of students to work a part time job 3 nights per week busing tables, dishwasher, expo, and all around restaurant helper.
Weeknights they close at 10:00, Friday and Saturday they close at 11:00, and are closed on Sundays. See Mrs. Trutsch.