February 27, 2017
Attention sophomores and juniors! Explore your college options by attending the West Michigan National College Fair on the morning of Tuesday, March 28th. Meet face-to-face with reps from dozens of local, national, and international colleges. Please visit the front desk in Student Services to sign up for a seat on the bus. The deadline to sign up is Friday, March 3rd.
Attention Juniors - The SAT is coming up in April! If you took the PSAT, your test booklet is here. If it's a great tool to use when reviewing your PSAT scores and answers with the actual question on the test. If you want your booklet, see Ms. Durkee in the tech office. Also, don't forget to sign into College Board and merge your scores with Khan Academy! Khan academy builds practice questions especially for you based on your PSAT results. It's a great tool for preparing for the SAT. If you need help, see your counselor or Ms Durkee.
AP Test sign ups have now started. Please bring your test sign up sheet and deposit or payments to Ms Durkee in tech office, or Mrs. Scott in students services. Deadline is March 24th to sign up for an AP Test.
National Relief Interim students, your last payment of $200 is due to Mrs. Koryto March 3.
Student Services​
Attention Seniors: Cap and gowns will be passed out on Wednesday, March 8th during all lunches. Make sure all balances are paid off before pick up.
Juniors and Seniors: There are two upcoming college rep visits in Student Services.

Grand Rapids Community College: March 8 @ 8:00 a.m.
Kuyper College on March 22 at 1:30 p.m.
FSU on March 29 at 8:00 a.m.
Sign up in Student Services.
Seniors:
If you are interested in a career after graduation, please see Mrs. Trutsch in Student Services.

Seniors
Seniors, if you are planning to attend Davenport University in the fall, you should attend the #DU it Workshop on March 4! See Mrs. Trutsch or your counselor for more information.
There is a New Local Scholarship in for seniors who plan to major in education in college. See Mrs. Trutsch for the details.
Attention all Fine Arts and Performing Arts Students!
GRCC is holding an open house to highlight three of their academic departments; theater, music and visual arts on March 15 at 6:00 p.m. Learn how you can easily transfer your credits to a bachelor's degree at the college/university of your choice. There will be a drawing for a $500 scholarship.
RSVP at grcc.edu/preview

If you are going to major in voice performance or music education, please see Mrs. Trutsch about a $1,000 scholarship opportunity.
Seniors: If you plan to major in English or related subject, the Patricia Winchester Vanderbilt Scholarship might be for you! Check our Student Services Blog, Naviance, or see Mrs. Trutsch right away.
Seniors: If you have applied/and or been accepted at Michigan, see Mrs. Trutsch about a University of Michigan Club of Grand Rapids Scholarship.
Seniors: Are you applying for scholarships? Now is the prime time to look up scholarships listed on our Student Services Blog and/or Naviance, or simply stop into Student Services and see Mrs. Trutsch. Also check out websites that offer thousands of different scholarship opportunities. If you wait until April, it will be too late!

Athletics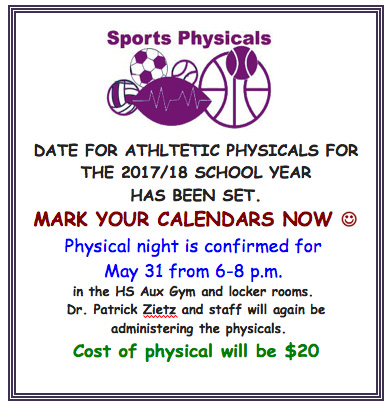 Job Board

Blue Lake Fine Arts Camp
Currently seeking candidates for 100 positions in Food Service, Camp Store, and Snack Bar for this summer. These are seasonal positions from entry level to leadership up to 40 hours per week. Candidates must be 18 by June 1. See Mrs. Trutsch for more information.

Sikkema Equipment in Byron Center is hiring part-time with flexible days. Looking for students who are hardworking, team players with a positive attitude. Any warehouse and/or agricultural/farm experience is a plus!
See Mrs. Trutsch.

Advantage Research Services is a market research company in Cascade. They are hiring people to conduct surveys and opinion polls over the phone. See their website atwww.advantageresearch.net.
Do you love fashion? Can you strike up a conversation with anyone? Do you flourish in a fast-paced, high volume, fun environment? If your answer is Yes! then you should be working at Gap! We offer competitive pay and flexible schedules.
Apply today at www.gapinc.com/careers Job code # 191565
(We are located at the Tanger Outlets at 350 84th St SW Byron Center, MI)

Byron - Gaines Utility Authority hiring for part time Utility System Maintenance Worker. Seasonal, from April to mid-October. Must be at least 18 years of age, have a high school diploma, and have a valid Michigan driver's license. Duties include building and grounds maintenance, limited water and sewer utility maintenance and special projects.
Midwest Sign Company in Byron Center is looking to train an apprentice. This will be part time after school now and full time after graduation. Pay is based on how much responsibility you can handle. Full benefits. See Mrs. Trutsch in Student Services for more information.

Caledonia Village Ace Hardware is hiring two people. No spring sports participation as it interferes with the work schedule. Must be comfortable with customers, good listening and work skills. Must be responsible, on-time and trustworthy. Would like someone who can work for at least two years.
Applications are available at the Caledonia Ace Hardware store.

Progressive Surface - after graduation full time, benefits & training-see Mrs. Trutsch now to set up a meeting.
Seniors: If you are interested in working in construction after high school instead of college, a local company is interested in hiring. Full benefits are offered and there is room for advancement. You must be 18 to apply.
See Mrs. Trutsch in Student Services.

Pete's Grill in Byron Center is badly in need of students to work a part time job 3 nights per week busing tables, dishwasher, expo, and all around restaurant helper.
Weeknights they close at 10:00, Friday and Saturday they close at 11:00, and are closed on Sundays. See Mrs. Trutsch.