Registering for 12th Grade Classes
Registration will open on January 25 and close February 3. All students will receive instructions on how to register during their English class on January 25 and an email will be sent to families with further explanation. Helpful resources have been posted below -- be sure to explore them!
---
Junior Class Presentation
Juniors met as a class with our counselors on November 9, during Seminar to discuss Post-Secondary factors including course selection, college searches and visits, standardized testing, extracurriculars, job shadows, career assessments and more. You'll find a copy of the presentation below.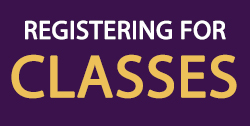 Class Registration Instructions

Curriculum Guide

Course List

4 Year Plan

Pathways

A.P. World History Contract (must be signed and returned to Mr. McCombs by February 3rd)