Seniors
Post-Secondary Presentation
Senior Year Timeline
College Bound
The checklist at the link below will walk you through the list of things you should be tackling during your senior year, to ensure a smooth application process. Visits to college fairs, the FAFSA, transcript requests, letters of recommendation, testing, applications and more are covered.

Master Checklist for COLLEGE BOUND Seniors
Career Route
There are many different pathways to meaningful work. Students who wish to enter the workforce directly following high school may benefit from further training to advance their careers. The timeline at the link below, provides opportunities to do just this.

Master Checklist for CAREER BOUND Seniors
Undecided? Unsure
You are not alone! Use this time to explore careers to better understand your passions and the steps you'll need to take to plan your future.

Master Checklist for UNDECIDED Seniors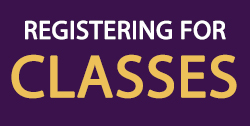 COURSE SELECTION SHEETS - List of courses available

CURRICULUM GUIDE- Provides course descriptions for each class