Mental Health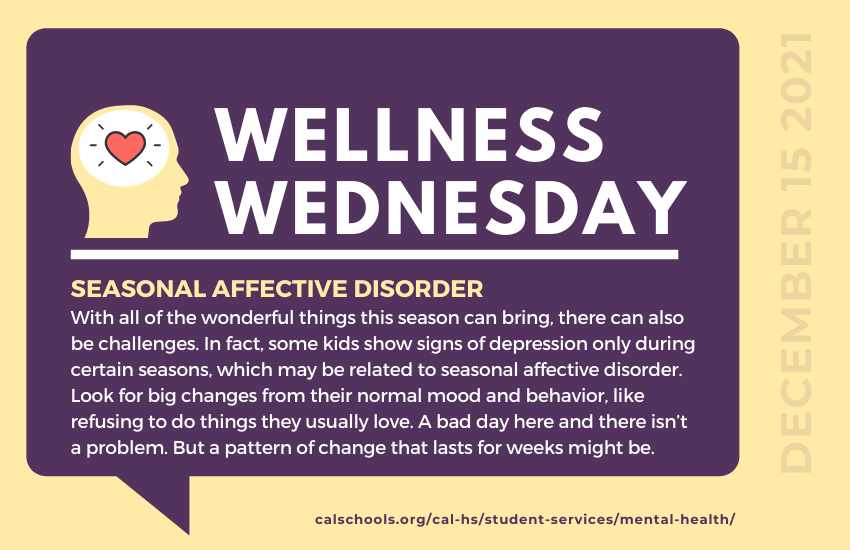 12/15 - Seasonal Affective Disorder
With all of the wonderful things this season can bring, there can also be challenges. In fact, some kids show signs of depression only during certain seasons, which may be related to seasonal affective disorder. Look for big changes from their normal mood and behavior, like refusing to do things they usually love. A bad day here and there isn't a problem. But a pattern of change that lasts for weeks might be. You can check with a doctor or therapist if you think your child might need help. Read the full article from CHILD MIND INSTITUTE here: Seasonal Affective Disorder by Hannah Sheldon-Dean
This time of year can also enhance the challenges that families face. There are many wonderful resources in West Michigan, but it can be difficult to know where to start. We have compiled a list of organizations in and around Caledonia that provide assistance with some of the most requested needs on the Caledonia Resource site here. Please feel free to share it with people you know who may benefit from the information.
---
12/01 - Action for Happiness
Action for Happiness has designated this month as "Do Good December." This month, we're encouraging you to carry out small acts of kindness. This has been another difficult year of uncertainty and ups and downs for many of us. Kindness is contagious, and helping others has been proven to make us feel better too! In fact, one team of sociologists tracked 2000 people over a five-year period and found that Americans who described themselves as "very happy" volunteered at least 5.8 hours per month. This heightened sense of well-being might be the byproduct of being more physically active as a result of volunteering, or because it makes us more socially active. Researchers also think that giving back might give individuals a mental boost by providing them with a neurochemical sense of reward.
Consider trying some of the action steps on the calendar here as a family.
---
11/17 - Feelings Are Not Facts
Someone wise once said, "Feelings are not facts." What they mean is that feelings and moods are transient. They come and go. Sometimes negative ones hang around longer than we want them to and positive ones do not last long enough. All-in-all I assure you that no matter the emotion/mood/feeling it does not last forever (it might feel like that but the truth is that it will not).
When you find yourself having a strong feeling, reflection can help you to pay attention to what it might be telling you. As psychologist Susan David from Harvard University explains, emotions can give you tremendous data. However, she adds, emotions are data, not directions. For example, the feeling of loneliness may tell you that you need more connection with people—but there are lots of ways to seek out social connection, some healthy and some destructive.

Here are some questions that can help you to self-reflect:
How am I feeling right now about this? Why?
What do I know?
What do I need to know?
Who can help?
What do I want the outcome of the situation to be?
When you reflect, you can evaluate your reactions and take small, deliberate steps to move in the right direction. For example, you might ask yourself: If I want to take better care of my physical wellness, what's one step I can take, right now? If I am overwhelmed by demands, what small changes can I make to prioritize my time? If I am in conflict with a friend, what might help open up lines of communication?

There's no magic formula. You all will have moments of success and moments that we feel like failures. That's why taking time to reflect, recalibrate, and respond is critical to developing practical wisdom.
---
11/02 - Try Something New
Action for Happiness has declared this month to be "New Ways November."

This month, we're encouraging you to try something new!

Learning something new or getting involved in an activity that really interests us is great for our wellbeing. Keeping our brains active is not only good for us physically but it can help with mental health as you see yourself make progress with a new skill. Or perhaps it will just make you smile as you make a mess and decide to start again:) Being playful and trying new things is important, as is remembering that it's OK not to get it right the first time. That is the power of YET - change "I can't do it," into "I can't do it...yet!" Check out this calendar to help you decide what you might want to try next.
Learning something new isn't just fun, it also helps grow our brains. In fact, scientists have found that the brain grows more when you learn something new, and less when you practice things you already know. The more a person learns, the easier it gets to learn new things – because their brain "muscles" grow stronger. Check out this article from Central Michigan University for more details.
---
10/20 - Bullying
October is National Bullying Prevention Month, a time to focus and raise awareness on bullying. During this month, many groups across the country will release new resources, campaigns, and efforts aimed at bringing awareness to the issue of bullying. This is a great opportunity for us to put ourselves in someone else's shoes and consider how we might help our school be a positive place for all students to be.

What is Bullying?
Bullying is unwanted, aggressive behavior among school-aged children that involves a real or perceived power imbalance. The behavior is repeated, or has the potential to be repeated, over time. Bullying includes actions such as making threats, spreading rumors, attacking someone physically or verbally, and excluding someone from a group on purpose. Bullying can also take place through technology, known as cyberbullying. Examples of cyberbullying include mean text messages or emails, rumors sent by email or posted on social networking sites, and embarrassing pictures, videos, websites, or fake profiles.
What can one person do?
Peer bystanders provide an audience 85% of instances of bullying, but many of us might feel like our one voice can't make a difference to a person who is struggling. Check out this video from director and choreographer Kenny Ortega as he reflects on the solo voices that have impacted his life.
Your actions can have a direct effect on the way someone thinks, acts, and feels. If you or someone you know is being treated badly, please reach out to a trusted adult. Alone we can do so little; together we can do so much." –Helen Keller
---
10/06 - Listening
October 10th marks World Mental Health Day, which brings a wonderful opportunity to remind us all that we possess one of the most effective tools to aid someone experiencing a mental health crisis.
Listening.
Listening is critical in many different scenarios, but for situations when someone is experiencing symptoms of a mental health crisis, there is a specific kind of listening that can be most effective: empathetic listening. For a person experiencing a mental health problem, having an empathetic listener can be calming and reassuring – even healing.
Empathy, unlike sympathy, does not mean we agree with the other person or see things from the same point of view. Instead, it requires taking a moment to step outside of our normal patterns of thinking and feeling to imagine what it feels like to be the person in front of us.

"Most people experiencing distressing emotions and thoughts want an empathetic listener before being offered helpful options and resources."
Empathetic listening isn't just important for those in crisis. In fact, research indicates that empathy is a career readiness skill. According to a 2019 Workplace Empathy Study, 90 percent of all employees believe empathy is important in the workplace, and eight in ten are willing to leave an employer who isn't empathetic.
This short clip from Inside Out illustrates empathetic listening perfectly and reminds us that we don't need to have all the answers to be able to help.
---
09/22 - Managing Expectations
As we continue in Self-Care September, we examine how to manage the expectations we put on ourselves and the ones we feel from others. Research suggests that expectations (whether that is pressure from your family, personal pressure you apply to yourself or even expectations your teacher has of you) can directly impact upon your performance. Expectations can be good and help to motivate us to achieve what we are capable of, but they can also be crushing and lead to feelings of overwhelm.
Managing your personal expectations is extremely important for your mental health. This is a short video about a U of M athlete who uses mindful self-compassion in the face of challenges. Here are some suggestions that might help you:
Challenge your assumptions about yourself and others. You don't know what you don't know. If you find yourself 'assuming' something, do some research to challenge or verify your belief.
Be encouraging to yourself and others. Pressure can be positive when it's encouraging yourself or another person to do something good, e.g. "I'm going to learn a second language in my spare time, to increase my opportunities to study/work abroad." The opposite of this is negative pressure, where you are using put-downs, or are focusing on avoiding a negative outcome, e.g. "Stop being such an idiot and get this assignment done so you don't fail."
Separate behavior from identity. If you make a mistake, it doesn't mean you are a failure. Be forgiving of yourself and others.
Keep things in context. Often our expectations don't account for context. If your barista was rude to you, you might assume they are a rude person. However, adding the context that they had just had a big pay cut, three customers had just been abusive towards them and they were really stressed because their dog was unwell might change how you viewed the situation. Rather than jumping to conclusions or taking things personally, it can be helpful to try and remain neutral and curious, by asking, "What else might explain this behavior?"
---
09/01 - Action for Happiness
Welcome to the 21/22 school year. It has been so exciting to welcome students back into our buildings and we look forward to an incredible year. This month, our wellness focus is on Personal Responsibility and Self-Awareness. Research would indicate that although our genes influence about 50% of the variation in our personal happiness, our circumstances (like income and environment) affect only about 10%. As much as 40% is accounted for by our daily activities and the conscious choices we make. So the good news is that our actions really can make a difference.
This "Action for Happiness" calendar provides daily suggestions for small steps we can all take to live happier and healthier lives. This month we're encouraging everyone to be kinder to themselves (as well as others), especially when things go wrong. Self-care increases our resilience and helps us get more out of life. It also helps us accept others as they are too. One suggestion for practicing self-care is to "talk to yourself like someone you love." So often we are much harder on ourselves than we are on others so take some time this week to notice your inner voice and challenge yourself to be more kind. For more information, read this article from Mayo Clinic.