Resources
Events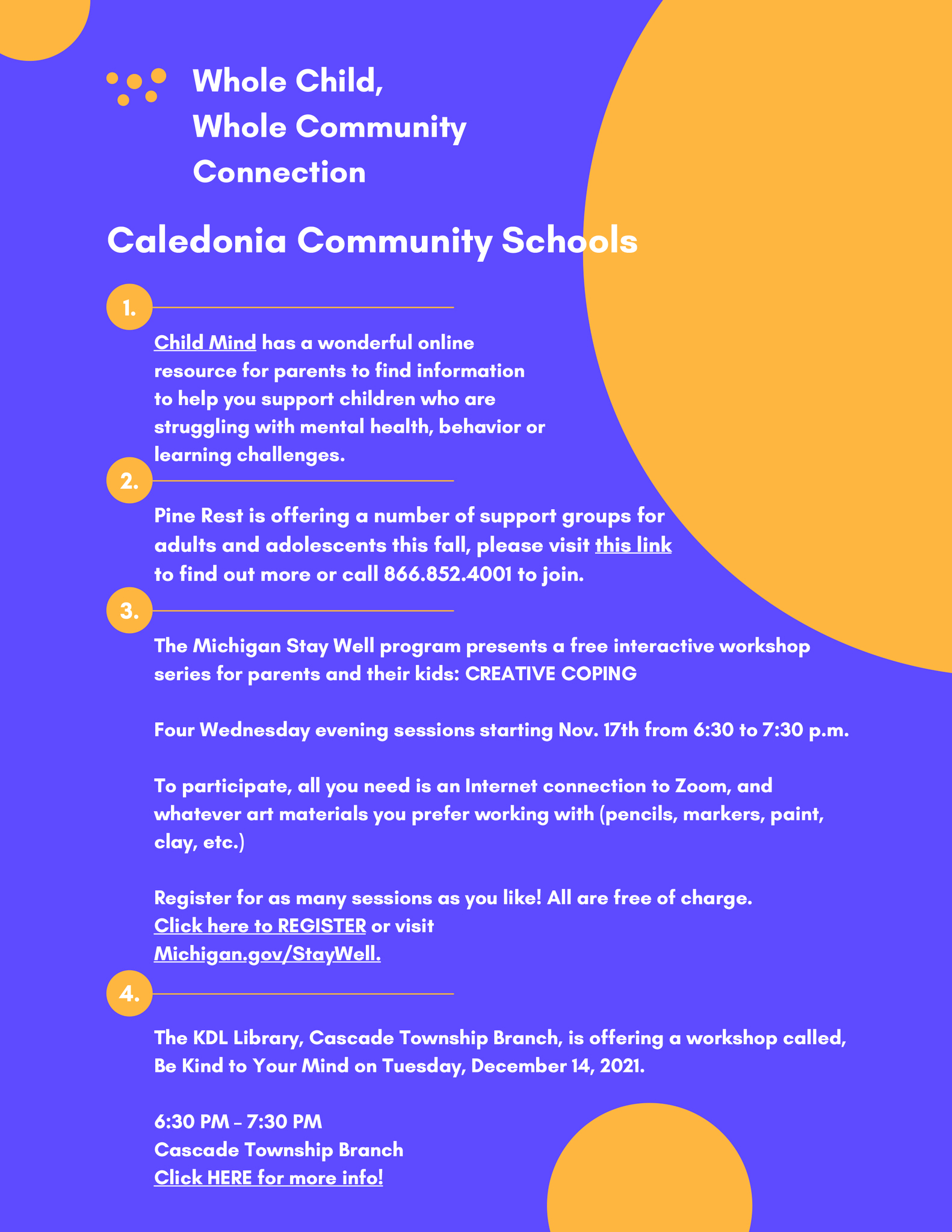 ADOLESCENT HEALTHY LIVING GROUP [AHLG]
TUESDAYS | 4:00-5:30 PM
Pine Rest Christian Counseling Center *ONLINE*
The Adolescent Healthy Living Group is a recurring 12-week program offered through Pine Rest designed to meet the needs of teens 13 years and older who are struggling with depression, anxiety or mood regulation problems. $60/session - insurance accepted.
---
CASCADE KDL LIBRARY
TUESDAY, DECEMBER 14 | 6:30-7:30 PM
During the Be Kind to Your Mind workshop we will learn the importance of self-compassion for your thinking and how to "de-fuse" harsh thinking. We will also practice mindful attention to our thoughts and learn the power of acceptance and gratitude to relieve stress. Learn more here.
---
CREATIVE COPING
WEDNESDAYS | 6:30-7:30 PM, 11/17-12/15
Michigan Stay Well *ONLINE*
This series of four online workshops paves the way by involving family members in creative art projects centered around identity, self-awareness, and emotional expression. To participate, all you need is an Internet connection to Zoom, and whatever art materials you prefer working with (pencils, markers, paint, clay, etc.) Learn more here.
---
DIALECTICAL BEHAVIOR THERAPY [DBT] ADOLESCENT GROUP
TUESDAYS | 7-8:30 PM
Adolescent & Family Behavioral Health Services *ONLINE*

24-week group for adolescents ages 14-18, who have behaviors that are defined as social problems, thought problems, attention problems, conduct problems, rule-breaking behaviors, disruptive behaviors, or aggressive behaviors at school, at home, or in the community.
Learn more on the Adolescent & Family Behavioral Health Services website.
---
HIGH SCHOOL IS HARD GROUP
MONDAYS & WEDNESDAYS | 4:00 PM
Lifeologie *ONLINE*

This is a 5 week, 10 session, virtual series for high-schoolers to better understand how to manage anxiety, depression, and all that life throws at them! Reserve a spot on the Lifeologie website here.
---
R.E.F.U.G.E.
MONDAYS | 7-8:30 PM
Corinth Reformed Church
129 - 100th Street SE, Byron Center, MI

Program for young adults, grades 9-12, who have experienced the death of a loved one. We cover a range of topics about grief, delve into God's word, perform science experiments and work on projects. Questions? Call 616.877.4652 or visit the Cornith Reformed Church website.
---
ARC TEEN SUPPORT GROUP
​*NOT currently meeting*
​
The ARC Teen Support Group is a laid-back, welcoming environment for teens, age 14-18, to recognize they aren't alone. Find others who "get it" and learn skills to help you manage your anxiety. Cost is $5 per person.
Free Meditation Apps
Aura - Personalized meditation based on how you're feeling, for example: Great, Can't sleep, Sad, or Anxious. Pick one and the app will guide you through an exercise. Apple or Android.
Calm - Guided 3 to 25 minute sessions to help in calming anxiety, practicing gratitude and more. You can choose sounds to help with sleep or choose a breathing exercise. If you are practicing meditation for the first time, there are programs for beginners. Apple or Android.
Smiling Mind - Simple 10-minute meditation sessions based on age groups. There are also different programs for if you're working or studying. Apple or Android.