December 16, 2019
---
Last Chance to bring food - Monday, December 16th. Please consider donating. :-)
Dress up days: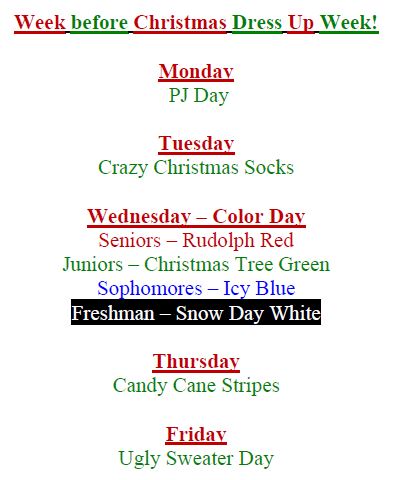 Equal Alliance will have their Holiday Party next Thursday, December 19 in Mrs. Halls room, that's 1206. Please plan on bringing a snack or drink to share!
Interim 2021: Would you like to discover Spain, stay with a family, and meet Spanish teens? Join us this Thursday, Dec. 12, at 6:00pm in the Learning Commons in South Campus for an informational parent/student meeting.
Student Services

Attached is our latest Student Services Newsletter...a few highlights:
---
Athletics
Attention Girls - The bowling team is in need of more female bowlers! If you are interested in giving this sport a try, please stop in the athletic office for more information.

If you are a Track & Field athlete not doing a winter sport and would like to get a jump start on your spring season for Track & Field here are a couple of opportunities.
Distance Runners- Meeting in Coach Howell's room, 1340, on Tuesday, 12/3, at 3pm.
Sprinters, Jumpers, Throwers- Meeting in Coach Howell's room, on Wednesday , 12/4, at 3pm.
---
---
GO SCOTS!!