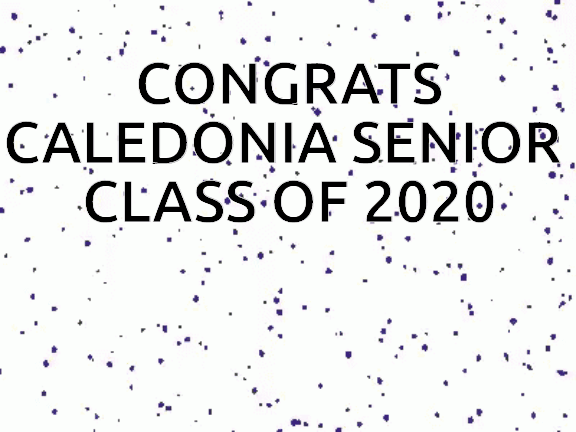 Grad Events

5/29: Senior Check-Out Day
6/8 - 6/11: Diploma Home Delivery Celebrations
6/23: Virtual Senior Awards Ceremony
6/24: District Staff Celebration Drive-Through
6/25: Virtual Commencement Ceremony

Senior Grad Actions Items
Make sure you are ready!!
Action Items
5/29: Senior Check-Out Day
If a student is unable to attend and would like someone else to pick up their items for them, they must notify the administration in advance, giving their permission to release items to another student or parent.
Any student with an outstanding balance on May 29th will not receive their Cap & Gown items from Jostens until the balance has been paid in full. We will not accept payment on the day of pick up.
6/8 - 6/11: Diploma Home Delivery Celebrations
ALL Seniors should select their delivery preferences via the Home Delivery Survey here.
Please put out your Class of 2020 yard sign on this day, to help us find you.
Make sure you complete the t-shirt survey by Monday, May 25th to receive your free class of 2020 t-shirt!
6/25: Virtual Commencement Ceremony
An email has been sent out to students and parents/guardians who need to complete a photo release authorization. If you received an email regarding a photo release, please submit an email reply including a statement of approval to Mrs. Giuliano-Durkee by Friday, May 29.
Seniors will take a personalized picture with their decorated cap, gown, cords, & their diploma cover. Students can take this picture individually or with their family members. Seniors will submit this personalized image to be used in the commencement ceremony. Future communication will give further details regarding this process, following consultation with Rock the House Entertainment.
Seniors who have NOT selected a walking partner, should do so via the link here by Friday, May 29.
9/18: Class of 2020 Homecoming Celebration
The graduation planning committee and class representatives are looking for input from the Senior Class regarding this event via this Student survey. This is our opportunity to work together and plan an exciting "in-person" commencement celebration for the class of 2020.
Parent and community involvement will also be part of planning, preparing, and supporting this great event.
STUDENT SERVICES
Find the latest STU News with details on everything happening in the Student Services here, or check out the highlights below:
Universal Forest Products offers a FREE Business Degree Program. Apply online here.
Students looking for opportunities in career exploration should explore Nepris, free for a limited time!
Executive Order No. 2020-79 allows for Work Permits to be signed digitally, and be printed on any color paper. Email Mrs. Giuliano for more info.
2020 CLUBS

DECA
25 Caledonia students competed at the DECA state competition in Detroit, Michigan March 4th - March 6th.. They competed among 5000 high school students from across the state in 80 various events in Business, Marketing, Sales, Finance, Hospitality & Tourism, and Accounting just to name a few. The Fighting Scots' business students competed in 14 events and 14 students earned overall finalist medals in 8 of those events! Three students; Amber Jakiel, Taylor Vischer and Sophie Host are overall winners and earned the right to compete at ICDC 4/28 - 5/3/in Nashville TN.

Specific results are as follows:
Team of Amber

Jakiel

and Taylor

Visscher

overall state finalist and state champion representing team Michigan at

ICDC

. International Business Plan (project).
Sophie Host, testing medal, performance medal, overall finalist and state champion representing team Michigan at

ICDC

. Food Marketing Services
Monica

Kinzie

, testing medal, and overall finalist. Financial Marketing Services.
Team of

Jobe

Anderson, Jack

Buchmann

, and Mitch

Kinzie

overall finalist. Hospitality and Tourism Operations Research (project).
Team of

Camryn

Asper, Bailey Callaway and Natalie

Ferriell

, overall finalist. Franchise Business Plan (project).
Team of Emily Schelling and

Rylee

Stafford overall finalist. Franchise Business Plan (project).
Team of Troy

Saylor

testing medal, and Katelyn Wallace overall finalist. Integrated Marketing Campaign/Event (project)
DECA is co-advised by business teacher Mrs. Katie Kenyon and Mr.Jerry Keron.
FFA
The Caledonia FFA chapter had a good showing at the state convention held March 4th to the 6th at Michigan State University. Over 2500 people attended the convention where many awards were presented and the state finals in 11 leadership contests were held. Caledonia FFA had a delegation of over 20 members, parents, advisors and alumni in attendance.

The Caledonia FFA was recognized with the Superior Award for chapter programs in the areas of student, chapter and community development. The Caledonia FFA was recognized for community service and agricultural literacy as well. Voting delegates for the Caledonia FFA were: Luke Heyboer, Colton Meyer, Remi Huver and Jonah Hilton. The delegates elected new state officers and attended a legislative reception at the state capitol. FFA was recognized by both the Senate and the House of Representatives during their respective business sessions.
Caledonia FFA had 6 students earn the state FFA degree this year – Haleigh Austin, Alyssa Cooper, Remi Huver, Colton Meyer, Ethan Whitcomb and Zoey Zupin. Four students received the Outstanding Junior award – Lauren Kim, Clarissa Hirsch, Hanna Gross and Luke Heyboer. Seven students earned academic recognition from the FFA – Zoey Zupin, Alyssa Cooper, Remi Huver, Lauren Kim, Ethan Whitcomb and Haleigh Austin.
Zoey Zupin was recognized for her volunteer experience in agriculture with a gold rated proficiency award in Agricultural Education and earned scholarships to attend Michigan State University in Agricultural Education. Mia Stiver won a scholarship to attend the Washington Leadership Conference this coming June.
The Caledonia FFA is a student organization of over 75 members focusing on agriscience and natural resources, personal growth and community service. The Caledonia FFA was chartered on February 26, 1936. Nationally, over 700,000 members are involved in over 8,600 FFA chapters in the United States.
FFA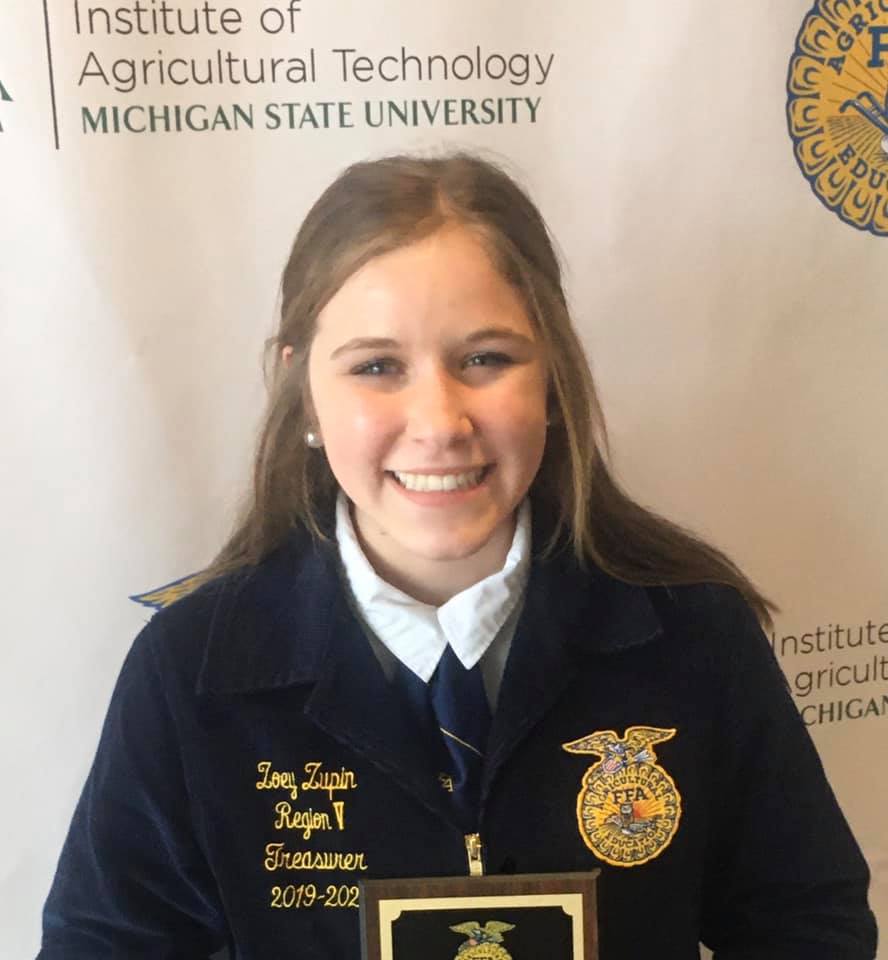 Caledonia High School senior Zoey Zupin was recently elected to serve as the Region 4 State Vice President for the Michigan FFA Association at the annual state FFA convention held at Michigan State University. Zupin will officially begin her office term on July 1st along with 11 other officers from throughout the state. The process included three levels of interviews at the local, regional and state levels. She presented a speech to the delegates at the state convention and answered impromptu questions for them as well.
Zupin is an honors student at Caledonia High School. She is involved in Student Council and many other clubs. She volunteers at elementary and middle schools engaging students in agriculture and natural resources. She plans to study Agricultural Education at Michigan State University this fall.
During her year of service, Zupin will travel over 15,000 miles representing the 8,600 members of the Michigan FFA visiting agriscience programs, agri-businesses and elected officials. She will go through extensive training before her year of service. The culminating experience will be helping conduct the 93rd Michigan FFA Convention in March of 2021.
Bowling
Congratulations to our Boys Bowling Team for winning Regionals, advancing them to the State Finals!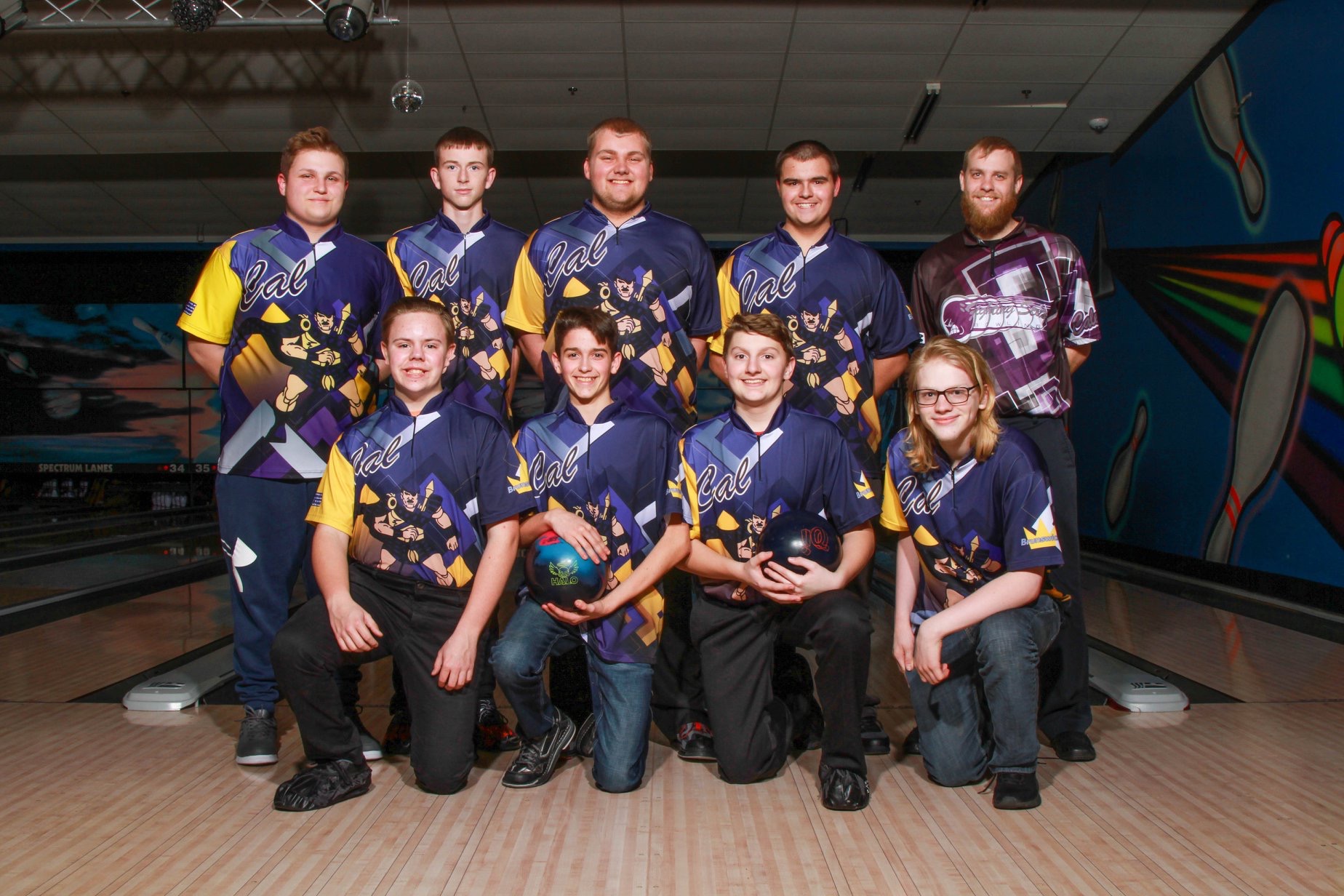 Orchestra
Please congratulate our Orchetra students on a job well done at Wednesday's MSBOA Orchestra Festival in Jenison! Each of our orchestras received a 1st Division rating, the top rating available at the festival.
Earning this rating is not an easy feat and is the result of the excellent work that our students did over the last 11 weeks to prepare for this performance. This marks the fourth straight year that all three of our CHS orchestras have earned a first division rating, a distinction that sets Caledonia apart among all high schools in Kent County!

VEX ROBOTICS
Congratulations to team "Semi-Good" on their advancement to the VEX WORLD FINALS! The team, comprised of freshmen Ethan Brown, Isaac Clark, Maddox Gaier and Sean Rice qualified after receiving the "Create Award" at this weekend's State Tournament. We are very excited to have them represent Caledonia at the April event in Lexington, KY!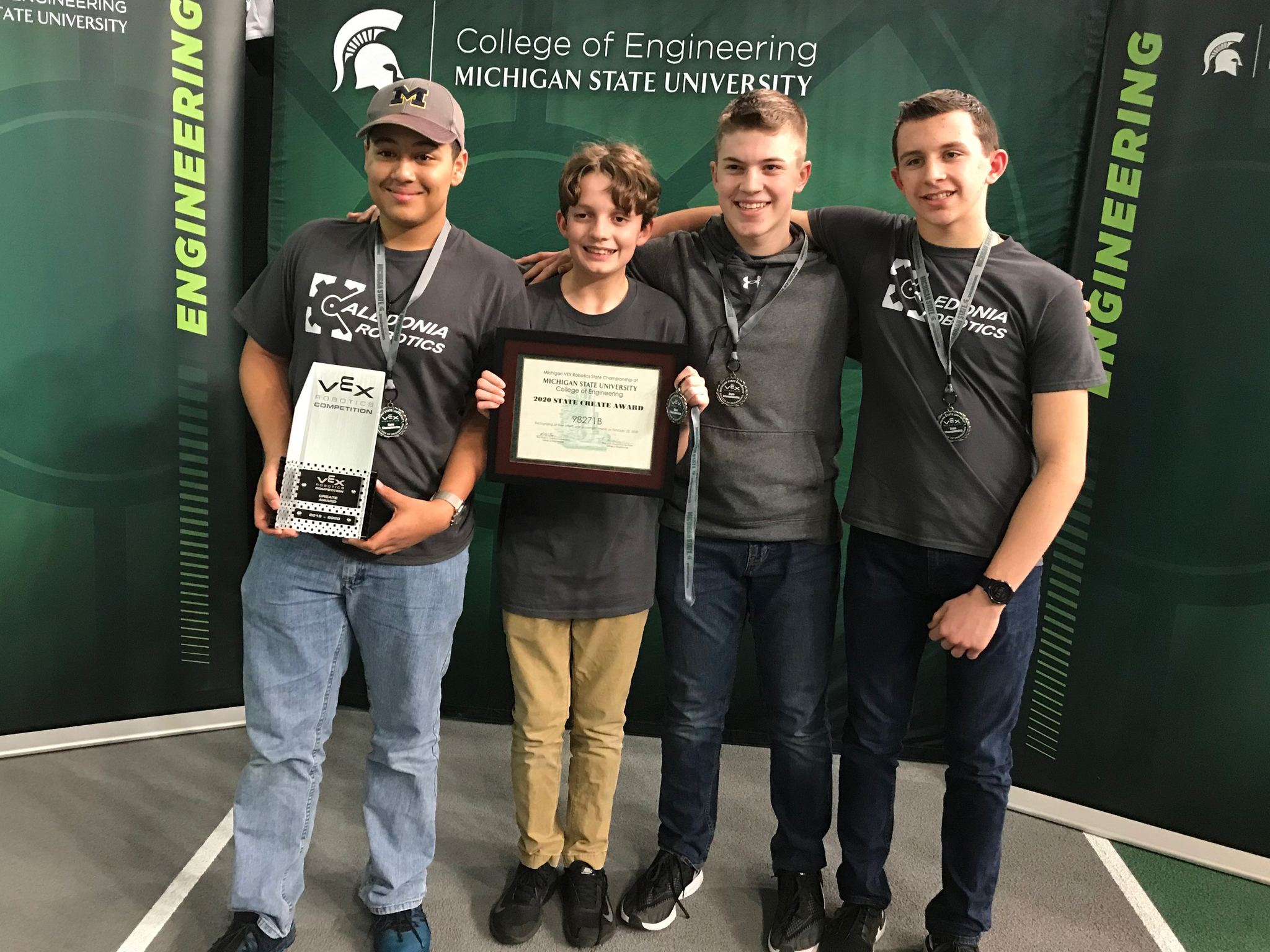 Choir
Congratulations to our Choir students, as all 4 Choirs earned 1st Division ratings at the Choral Festival!
---
GO SCOTS!!