Communications
Communications & Public Relations Information
The Caledonia Community Schools Communications department is responsible for maintaining effective communications within our district as well as our community. We are the primary source for sharing the district's story through media communications, public outreach, traditional media, and electronic means. The department seeks to keep the parents and community informed of pertinent information, upcoming events, student and staff achievements, and issues impacting our district.
District Goals:
We WILL implement a conducive and structured information exchange environment for integrating students, parents, teachers, and the administration.
We WILL improve internal and external communication with the goal of creating open, two-way communication between the district and staff, parents, and the community.
District Mobile App
We have exciting news! In an effort to better align with the organizational coherence goals in our strategic plan, we have been working hard to develop an app that families and community members can use to get information all in one mobile location. The "Caledonia Community Schools" App will keep students, parents, and staff connected, engaged, and on track for success.
The app can replace the old paper planners/agendas and contains school news, calendars, extra-curricular updates, and other school information. You'll receive notifications from the district and school(s) that you subscribe to.
The app works wherever you go - on iPhone, iPad, Android phones, and tablets. You can receive notifications on your Chromebook or using a computer's web browser. If you don't have a smartphone, sign up for text messages and/or email notifications at: https://calschools.appazur.com.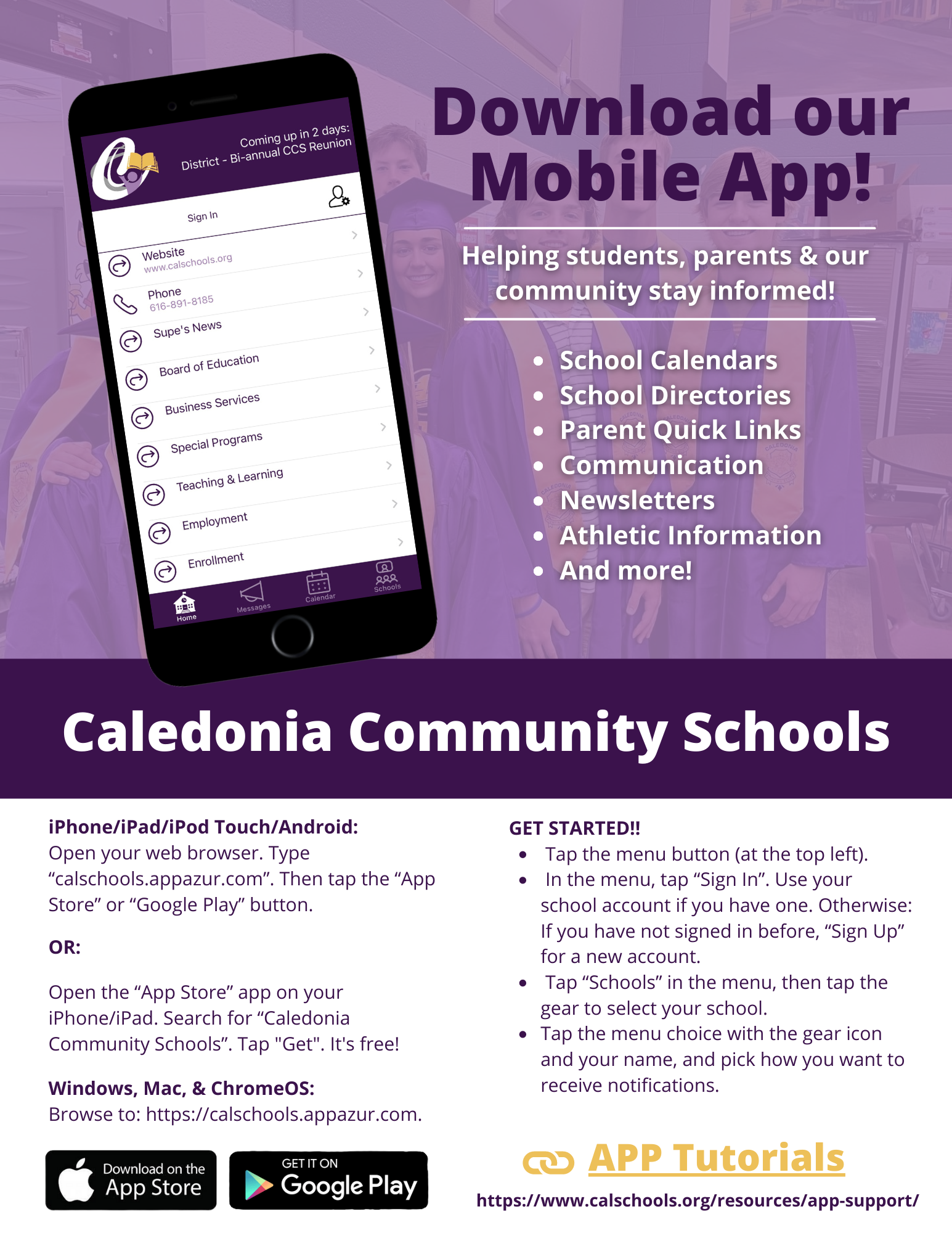 Caledonia Community Schools is doing amazing things for our students and families and we want to make sure everyone knows it! Do you have an inspirational, impactful, exciting, entertaining, or encouraging story to share with your school community? Do you know of an alumnus who is doing something extraordinary? A story that supports the district's mission and illustrates the actual events taking place on a daily basis that contribute to our vision?
Please fill out the form below and we'll do our best to share this with families via social media, our website, or in the Cal Communicator. If you have any questions, please contact our Communications Department (communications@calschools.org).

Tell "Our Story" Form Link
CCS Social Media Standards
Our Social Media Standards
Caledonia Community Schools (CCS) strives to make our online platforms safe and effective for all ages. Our pages provide information of public interest to students, parents, and other residents in our community. We encourage you to engage with us, share thoughts and questions, share our posts, and collectively work together to tell our story. Caledonia Community Schools is doing amazing things for our students and families and we want to make sure everyone knows it!
Staff, students, parents, community members, and visitors are encouraged to:
Be a positive role model for students
Be respectful and supportive of others
Be mindful that children use social media websites
Use good judgment in commenting and sharing information
CCS considers its social media platforms to be a limited public forum. As a result, CCS reserves the right to remove comments that are clearly off-topic and inappropriate, including:
Profane or obscene language or content
Content that promotes, fosters, or perpetuates prejudice or discrimination against protected classes
Sexually harassing, lewd, bullying, harassing, or discriminatory content
Conduct or encouragement of violence, criminal activity, or truancy (please note that threats will be reported to law enforcement)
Spam or comments that include links to external online sites
Commercial solicitations or advertisements including promotion or endorsement
Promotions of particular services, products, or political candidates or organizations
Information that personally identifies students or otherwise infringes on a child's legal rights related to education
Information that is profane, slanderous, or defamatory against CCS personnel, staff or students
Information that may tend to compromise the safety or security of individuals, public schools, or public school systems

Violators of our community standards may have their comments removed from CCS social media platforms. Continued egregious violations of this policy may prompt CCS to block or further restrict an individual's ability to comment on, or engage with, our official social media platforms. CCS also reserves the right to delete comments and block users from commenting if they violate our community standards.
The District does not necessarily endorse, support, sanction, encourage, verify, or agree with comments, opinions, or statements posted on the page. Any information or material placed online, including advice and opinions, are the views and responsibility of those making the comments and do not necessarily represent the District.
Thank you for doing your part to create a positive social media experience in our community.

Thank you!
We have several community members, students and staff with amazing photography skills. Many of them have been very generous to share their photos/videos for use on our website and social media sites. Please help us thank these individuals who have shared their amazing talent with our district. Thank you!
Photographers*:
CCS Journalism & Yearbook Students
CCS Digital Media Class
Pat Moll
Chris Robotham
Nate Versluis
Steve White
*If you notice a name mistakenly left off the list, please email communications@calschools.org