Online Payment System
Caledonia Community Schools
Online Payment Solution
Introducing...
EFS: e~Funds for Schools!
Making payments for your Cal student will now be easier and more convenient than ever with our new online payment system. This system enables you to make all your payments in one, convenient location and save money on processing fees!
Just visit our online store using your computer or mobile device. Once your account has been created and your students added you can:
Quickly view and pay student fees
Pay selected fees like National Honor Society and AP Exams
Purchase a ChromeCare Plan for your student devices
Save money by combining purchases into one single payment
Pay by credit card or a direct debt from your checking account
Creating Your Account: To create your e~Funds for Schools account you will need your first and last name and a valid email address. You will also need to set up a username and password.
When adding your students you will need their last name and student number. The student number can be found on the Demographic Info page of the PowerSchool parent portal. You may also contact your child's school office to obtain their student number.
About convenience fees: e~Funds for Schools is an online payment processor and charges a fee for the service. The amount of the fee is dependent on the payment type used. Credit Card fees are $2.85 for the first $100. The ACH Payment fee is $1.25 per transaction. A transaction is all items in your cart when a payment is made and can include multiple different items for multiple students. This is the most cost effective method of making payments.
NSF (Non-sufficient Funds) fees: These fees are charged for having insufficient funds in your checking account for a direct debt transaction. The payment processor will assess a NSF fee and your bank may also assess a fee. The most common cause of NSF fees is incorrect routing or account numbers. Make sure to carefully follow instructions when entering your direct debt payment settings.
Setting Up a Direct Debt Payment Type: To set up a direct debt payment type you will need your banks routing number and checking account number. Both can be found on your check.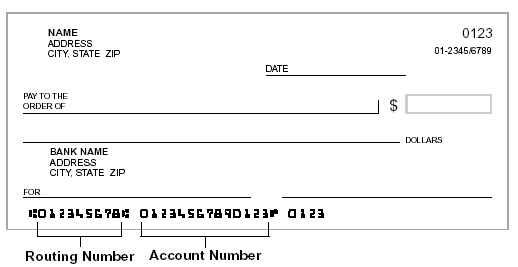 A deposit ticket is not to be used to enter the routing number. The routing number on a deposit ticket can be different than an actual check. Please enter the routing number from an actual check to ensure the payment will process correctly.
Additional Information: For more information regarding e~Funds for Schools visit the FAQ page or see the resources linked below;

Quick Start Guide for Parents

Setup Guide