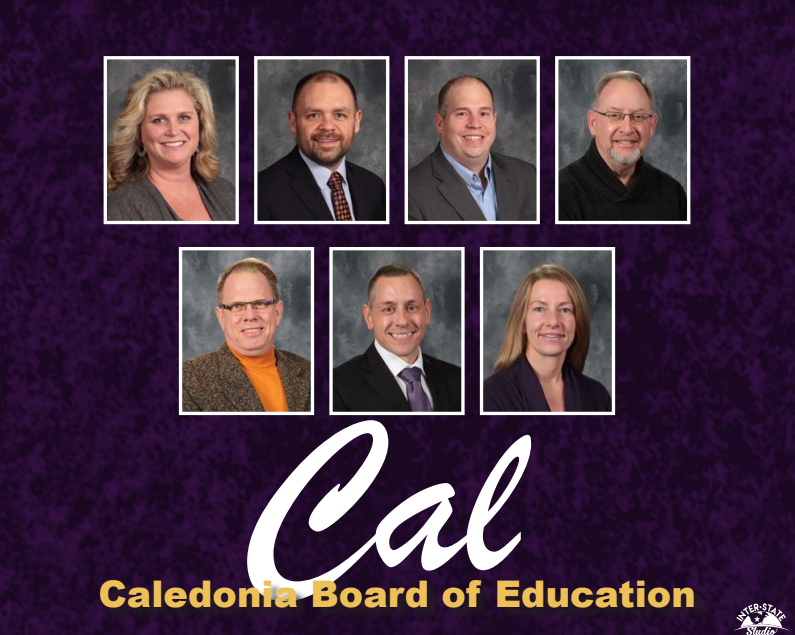 Scheduled Board Meetings / Agendas & Minutes
Board Of Education Meetings 2019-2020
The Caledonia Community Schools Board of Education meets monthly on the third Monday at 6:00 p.m. in the administration office located at 9753 Duncan Lake Ave., unless noted differently below.
The board of education schedules workshops as needed. Those dates will be posted as the workshops become scheduled.
Minutes of Caledonia Community School board meetings are posted following board approval which occurs at the next scheduled board meeting. Below you will find minutes of the current academic year. In addition, the district archives the most recent two (2) academic years on our web page.
Regular Monthly Meetings
| Regular Monthly Meeting Dates | Minutes |
| --- | --- |
| December 14, 2020 *second Monday | |
| November 16, 2020 | |
| October 19, 2020 | |
| September 21, 2020 | |
| August 17, 2020 | |
| July 20, 2020 | |
| June 15, 2020 | |
| May 18, 2020 | |
| April 20, 2020 | |
| March 16, 2020 | |
| February 17, 2020 | |
| January 20, 2020 - Will be held at CHS - Lower Forum Room | |
| December 16, 2019 | December 16, 2019 |
| November 11, 2019 | November 11, 2019 |
| October 21, 2019 | October 21, 2019 |
| September 16, 2019 | September 16, 2019 |
| August 19, 2019 | August 19, 2019 |
| July 22, 2019 | July 22, 2019 |

Board Workshops
Curriculum and Learning Committee
Curriculum and Learning Committee Meeting
Administration Office Boardroom
Meeting dates for the 2020 calendar year will be held at 7:30 am in the Administrative Office Boardroom and are scheduled as follows:
January 23
February 27
March 26
April 23
May 28
June 25
July 23
August 27
September 24
October 29
November 19
December 17
Finance and Operations Committee
Finance and Operations Committee
Administration Office Boardroom
Meeting dates for the 2020 calendar year will be held at 7:30 am in the Administrative Office Boardroom and are scheduled as follows:
January 15 - Canceled
February 12
March 11
April 15
May 13
June 10
July 15
August 12
September 16
October 14
November 11
December 16
Board of Education Presentations