Bond 2023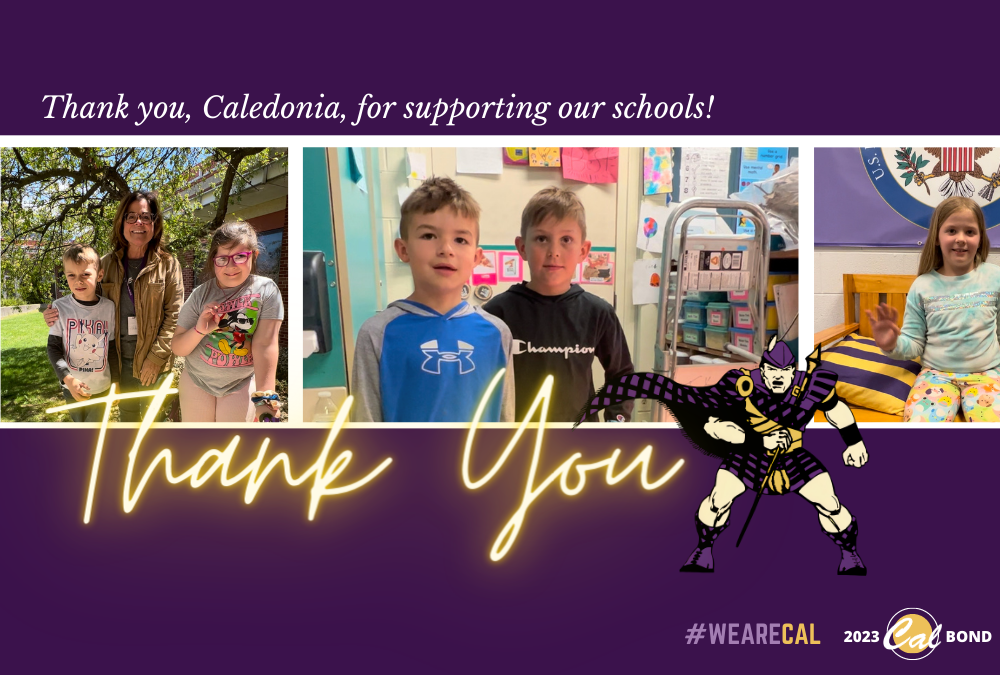 A letter from Dr. Martin ~
On behalf of Caledonia Community Schools, I want to thank the voters of our district for supporting the Caledonia School Bond on May 2. This bond will be used to replace Dutton Elementary and make necessary improvements to buildings and facilities in our districts, as well as invest in technology that will help Caledonia students succeed.
This bond, which will not raise tax rates for residents, is a fiscally responsible investment, and CCS is committed to making information about the funds and projects available on our website to ensure taxpayer dollars are spent wisely and transparently. This bond will be used for several projects, including repairing roofs, upgrading parking lots, replacing outdated school buses, upgrading technology, replacing Dutton Elementary and providing additional parking and athletic fields at Calplex.
Passage of this bond will benefit CCS students and our community for generations to come and build on our proven track record of success inside and outside the classroom. As a result of this proposal's passage, we will be able to build upon our high record of achievement through investments in technology that help Caledonia students compete for jobs, including in the skilled trades. It will also help attract and retain families and businesses and keep property values high in our community.
I want to take a moment to thank those who led the Friends of Caledonia Community Schools committee and others who volunteered their time to spread the word about this bond and encourage support in our community. Your passion and dedication to the success of CCS is heartening and means so much for all kids in Caledonia.
Thank you again to everyone in our community who supported this bond. It will help build on the amazing achievements of our district and keep Caledonia a place where people want to send their children to school and put down roots.


We know that stronger Caledonia Community Schools means a stronger Caledonia community overall. Many people choose to live in Caledonia because of our schools, and we need to invest in them if we want to continue attracting and retaining families, supporting local businesses, and maintaining our high property values.
On your May 2, 2023, ballot, you'll see a supplemental bond proposal for CCS. This bond will help us make necessary repairs to buildings and facilities, from replacing outdated school buses to upgrading parking lots and replacing roofs, among many other improvements. These improvements will keep our district strong and help keep Caledonia an attractive place to live, raise a family, own a home, retire or start a business. It's important for our community to know this supplemental bond will NOT raise tax rates for residents.

We are grateful for the support of our residents in the growth and improvement of our schools and are looking forward to building our future. We encourage you to get out an vote on May 2!
Here at CCS, we have a proven track record of success inside and outside the classroom, and this proposal will help us build on our record of achievement. Our continued investment will help CCS stay competitive and enable our students to receive real-world, hands-on experiences to better compete in the global marketplace, including skilled trades jobs.
We're proposing this fiscally responsible supplemental bond to continue investing in our schools and facilities. As with past bond proposals, we will track the bond dollars and how they are used on a public website and the funds will be subject to regular independent audits to promote accountability and transparency.
2023 Supplemental Bond Informational Sheets
2023 Supplemental Bond Informational Sheets

One Page Summary - Bond Overview


One Page Summary - Historical Timeline


Three Page Summary - Detailed Information February Update
2023 Supplemental Bond FAQ's
Frequently Asked Questions(FAQ) about the Caledonia Community Schools 2023 Supplemental Bond

2023 Bond FAQ

Bond Update - June 19, 2023 (Dutton Elementary)
Bond Update - June 19, 2023
At the CCS Board of Education meeting of June 19th an update was provided to seek consensus on the final directions for the new Dutton Elementary school building.

This presentation of some the options, direction, and financial information was presented.
We are looking forward to the finalization of the drawings, construction bidding, and start of construction early this fall. Look for an annoucement about a ground breaking event - comingf soon!
If you have any question about the Bonds - please email us at CalBond@CalSchools.org and we can get back to you with answers.
Bond Update - November 9, 2022 (BOE Special Meeting)
Supplemental Bond Discussion
The CCS Board of Education met to discuss a supplemental bond on November 9, 2022. There was consensus to move forward to meet with the Michigan Department of Treasury. Once the process with the treasury has been completed, the district will begin communicating with the community about the supplemental bond as more information becomes available.

Special Board Meeting - Supplemental Bond Presentation - November 9, 2022


Special Board Meeting Recording - November 9, 2022 (Coming soon)


One Page Bond Update - November 11, 2022
Bond Update - October 11, 2022 (BOE Special Meeting)
Bond 2020 Update
The CCS Board of Education held a special meeting last night to finalize a decision about how the District will move forward with the 2020 Bond. Economic pressures in construction costs have pushed the price of planned bond projects significantly higher than anyone could have ever anticipated. With cost projections greatly exceeding the amount of money we have remaining in the bond, proceeding as originally planned would have required us to use general operating funds, significantly reducing our fund balance and placing the overall district operations at risk of severe reductions.

To help summarize the direction we are heading moving forward, we have put together a one-page summary document to highlight the details of their decision to finish the remaining projects on the list and move forward with BONDING for a NEW Dutton Elementary. While we still have a lot of work to do to make this happen, we are confident that our board made a decision that is beneficial to all students and staff of Caledonia. We are committed to making every effort to share with our community the importance of upgrading all facilities in Caledonia, and providing the families and staff at Dutton Elementary with a facility that meets all their needs, now and for the foreseeable future.
A copy of the October 11th presentation can be found on our website, as well as a recording of the entire meeting. For information, questions, or inquiries regarding the Caledonia Schools 2020 Bond program, please visit our website or email us at Bond2020@Calschools.org.
We are very thankful for the time and commitment our board of education put in to make this tough decision. We know they did not enter into this lightly, but are thankful for the direction they have given us to proceed.